Sales Account Manager | Canada
Chervon is one of the world's largest power tool and lawn and garden equipment manufacturer with a rich history of innovation. Chervon's commitment to build a better world by building better tools is evident in the products we manufacture and our green approach to manufacturing. We focus on hand-held portable power tools, stationary bench tools, laser and electronic equipment and outdoor power equipment. With world-class R&D, manufacturing, design, marketing, sales and service teams throughout the world, we do it all.
About Our Opportunity
The Sales Manager- Canada (SMCA) will be responsible for the oversight and development of new business as well as increasing sales revenue from existing customers in traditional dealer, distributor and select key accounts across all provinces of Canada. The SMCA will create and apply effective sales training and product knowledge to external sales agencies and channel partners allowing them to increase the market penetration of Chervon brands. The primary goal of this individual is to drive sustainable financial growth through sales growth and the development of strong relationships with customers and other 3rd party sale teams.
The Sales Manager is the bridge between Chervon and the Traditional Trade sales channels and select key accounts in Canada. A bond of trust and respect must be formed between the Sales Manager and the Independent Sales Representatives, the distributor sales teams, and customers for the Sales Manager to be effective at his/her assigned duties.
Key Responsibilities
· Develop, procure, and maintain dealers of Chervon products in Canada;
· Provide supervision, sales training, and support of independent sales representatives across Canada;
· Manage sales development and the customer relationship directly with assigned key accounts, currently the Lowe's business in Canada;
· Identify, develop, and contract independent sales agencies to create an effective network of sales representation of Chervon across Canada;
· Provide distributor sales training and assist them in acquiring new end use customers for Chervon products;
· Assign, track, manage, and report sales development in accordance with assigned key performance indicators (KPI's) in traditional trade channels and assigned key accounts;
· Distribute and manage sales leads to sales representatives and assist in arranging business meetings with prospective accounts;
· Work dealer and distributor shows, national and regional trade shows and meetings and events promoting Chervon products;
· Manage time and travel schedule to provide the most efficient and effective productivity while managing costs;
· Build long-term relationships with new and existing accounts;
· Build trust and respect with internal and external customers by utilizing the utmost integrity;
· Fully support Chervon brand marketing initiatives at the distributor and dealers level;
· Provide channel feedback to Chervon regarding product performance, marketing initiative acceptance and rival intelligence gathering.
Job Requirements
· Proven work experience as a Sales Manager or relevant role in the hardware, home improvement, outdoor power equipment or related industry;
· Proven sales track record;
· Strong experience with high level negotiations;
· Excellent communication and people skills;
· Excellent time management skills;
· Computer proficient; Competency in Microsoft Office Suite programs;
· Experience in customer support;
· Weekly call report submission;
· Weekly expense report reconciliation;
· This job operates 70%- 80% in the field; drives a car and works in various office and professional environments.
Required Education and Experience
· A bachelor's degree in business or equivalent of seven to ten years of proven success as a sales professional with some Sales Manager experience;
· Must have a background in building and successfully executing partnerships and sales preferably within the dealer and distributor environments;
· Strong professional presence and demeanor;
· Strong relationship and negotiation skills;
· Appreciates and thrives within an entrepreneurial and private environment;
· Familiarity with sales performance metrics;
· Excellent communication skills with a customer service attitude;
· Team management skills;
· Strong analytical and organization skills;
· Prior experience in working within the tool manufacturing industry a plus.
About Our Working Environment
Chervon North America operates in a casual and fun environment. We offer a very competitive benefits package including health stipend, car allowance and RRSP contribution.
We think Chervon is a great place to work! Be part of our new future! Better Tools. Better World.
 Apply here: http://chervonnorthamerica.applytojob.com/apply/o20kZUlAy4/Sales-Account-Manager


Career Opportunities
Soo Mill is the leading building materials supplier in the Algoma District with stores in Sault Ste. Marie and Elliot Lake, and a Roof Truss Manufacturing plant also located in Sault Ste Marie.
Soo Mill & Lumber promises to Reliably Deliver Quality Products & Outstanding Customer Service through a Knowledgeable & Trusted Professional Team. We are truly dedicated to our Customers and the Communities that we reside in.
Our Sales Team is growing and we are now accepting applications for an Installed Sales Associate and an Estimator/Contractor Desk Associate based in Sault Ste. Marie, Ontario.
We are also hiring a Contract Sales/Installed Sales Associate for our Elliot Lake Ontario location.
For more information on these positions and what Soo Mill has to offer, please visit www.soomill.com/contact/job-opportunities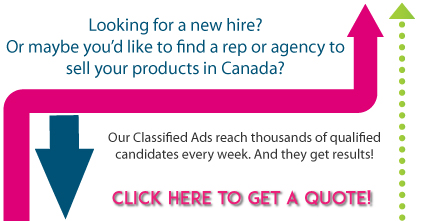 Looking for a new hire?
Or maybe you'd like to find a rep or agency to sell your products in Canada?
Our Classified Ads reach thousands of qualified candidates every week. And they get results.

Place your own classified ad
2 weeks in our weekly newsletter and right here on this website costs $2.99 per word
4 weeks in our weekly newsletter and right here on this website costs $3.99 per word
A logo is an additional one-time set up fee of $189
For a free quote, email your ad copy to michelle@hardlines.ca.