Sales Service Representative(Quebec, Quebec City)
Sherwin Williams Consumer Brands Group Canada
Sherwin-Williams is the largest paint and coatings company in the world. With $15.8 billion in sales, more than 4,100 stores and 140 manufacturing and distribution centers worldwide. Our 60,000 employees across the globe are diverse, innovation and passionate. With a variety of rewarding and challenging opportunities, Sherwin-Williams is a great place to launch and grow a career. Find yours and join us today.
Job Responsibilities:
This position is required to grow top lines sales at assigned home improvement stores within a geographic territory. Provide merchandising and sales support at Home Centre(s) that carry Consumer Brands products. Conduct product knowledge training and in store demo's . Shelf maintenance including down stockings, inventory management and installing/maintaining promotional displays. Complete weekly paperwork including expense reports and call schedules. Utilize the CRM system to document sales calls and store visits. Sales Service Representatives will also gather and document competitor intelligence information in the CMR. Ability to conduct product demos to support selling process.
As Consumer Brands sales professional you will have the opportunity to drive sales, and grow your territory and contribute to the achievement of organizational goals. You will learn a wide variety of selling related skills including planning and conducting effective sales calls, identifying and exceeding customer needs and sales opportunities, inventory systems knowledge, management, expense management, as well as promotional selling and basic marketing.
Job Requirements:
Prior experience in Customer Service, Sales, Marketing or other Business related field.
Ability to work a flexible work schedule which includes evening and weekends.
Must have a valid driver's license.
Strong Organizational & Communication Skills.
Must be legally authorized to work in the country of employment without needing sponsorship now or in the future for employment visa status.
Must be at least 18 years of age.
Must have a valid driver's license, access to a vehicle and insurance.
Must be able, with or without reasonable accommodation, to lift and carry up to 50 lbs.
Must be able, with or without reasonable accommodation, to work all schedule hours, which may include evenings and weekends.
The territory for this position includes Quebec City, Lac St-Jean, Cote-Nord and Bas du Fleuve et Gapesie.
Preferred that applicant lives near Quebec City.
Education Required:
High School Diploma or Equivalent
Preferred Qualifications:
Bachelors Degree Preferred
You can search https://jobsearch.sherwin.com/en/job-description?jobNumber=17000G0Q

Home Hardware Building Center is looking for a managing partner in a new business in Central British Columbia.  We are looking for a person to grow this business with and ownership will be discussed.
We are looking for an individual that that has had at least 5 years of management, which includes hiring,  wage costing, merchandising, product ordering and inventory management, blue print estimation.
The incumbent will have excellent organizational and problem skills as well as the ability to develop and maintain a positive rapport with staff and customers.
Please forward resumes to grant@centralpg.ca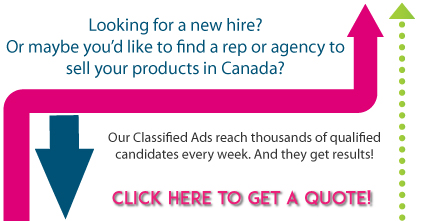 Looking for a new hire?
Or maybe you'd like to find a rep or agency to sell your products in Canada?
Our Classified Ads reach thousands of qualified candidates every week. And they get results.

Place your own classified ad
2 weeks in our weekly newsletter and right here on this website costs $2.99 per word
4 weeks in our weekly newsletter and right here on this website costs $3.99 per word
A logo is an additional one-time set up fee of $189
For a free quote, email your ad copy to maggie@hardlines.ca.