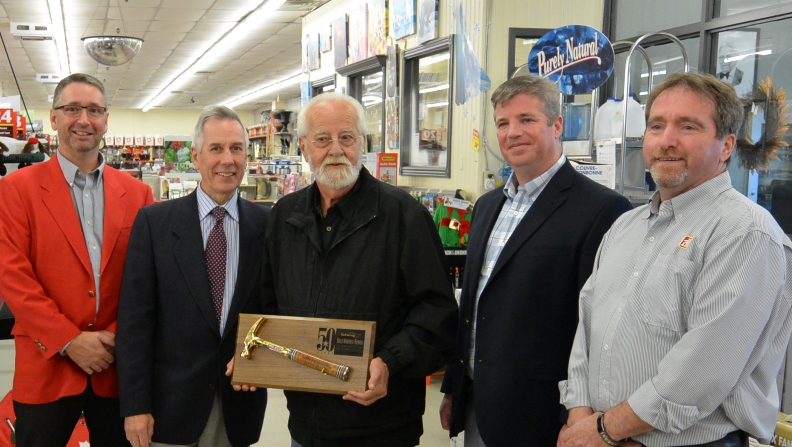 PLACENTIA, Nfld. — Laurie Blackwood Pike, a fixture of the hardware industry in Atlantic Canada for more than half a century, received the Gold Hammer Award for 50 years of service this week. Pike now resides in Placentia, Nfld., with his wife Katie. In a surprise ceremony at the nearby Aylward's Home Hardware Building Centre, Pike was presented with the hammer, which is sponsored by Estwing, by Michael McLarney, managing director of the North American Retail Hardware Association for Canada, and editor-in-chief of Hardlines Inc.
Besides being a retailer himself at one time, Pike has worked for Cochrane-Dunlop, Sodisco-Howden, Benjamin Moore, and most recently at Home Hardware as dealer development manager for Atlantic Canada.  "If you don't know Laurie Pike, you aren't in the hardware and home improvement industry in Atlantic Canada," McLarney noted.
From l-r: Roy Crawley, regional manager for Home Hardware Stores Ltd.; Michael McLarney of Hardlines and NRHA Canada; Laurie Blackwood Pike; Danny Aylward of Aylward's Home Hardware Building Centre; and Councillor Andy Edwards of Marystown, also a partner in the Aylwards group.