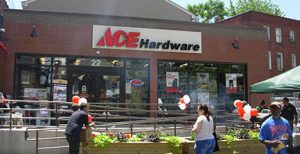 Ace Hardware Corp. reported its fourth quarter and 2022 year-end results last week. Full year revenues were a record $9.2 billion, up 6.7 percent from 2021. Net income for fiscal 2022 was $340.6 million, an increase of $10.6 million from the year prior.
"Financial results for 2022, subject to all appropriate caveats in an unusual year, exceeded our expectations," the company said in a release. "We are pleased to announce record revenue, record profit, record shareholder distributions, and record contributions to our charitable foundation," said John Venhuizen, president and CEO of the Oak Brook, Ill. company, which supplies over 5,000 Ace retailers around the world. Fourth-quarter retail revenues were $189.5 million, a decrease of $15.4 million, or 7.5 percent, year-over-year.
More than 100 Ace-bannered stores in Canada are supplied by Peavey Industries, which holds the license to the brand in this country.