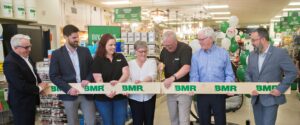 BMR held two grand openings this month, one for a new member retailer in Cornwall, Ont., and one for a Quebec store that joined its banner during the pandemic.
Perkins Home Centre Ltd. (pictured) in Cornwall moved to the BMR banner in March after more than three decades in business. Mayor Glent Grant was on hand to celebrate the opening with owner Roy Perkins and BMR representatives.
Quincaillerie et Matériaux P.A. in Les Cèdres, Que., started out in the 1880s as a general store and funeral home. It joined the BMR Express banner in June 2020. Owner Pierre-André Paquette welcomed members of the local municipal council for the delayed celebration last week along with staff and customers.