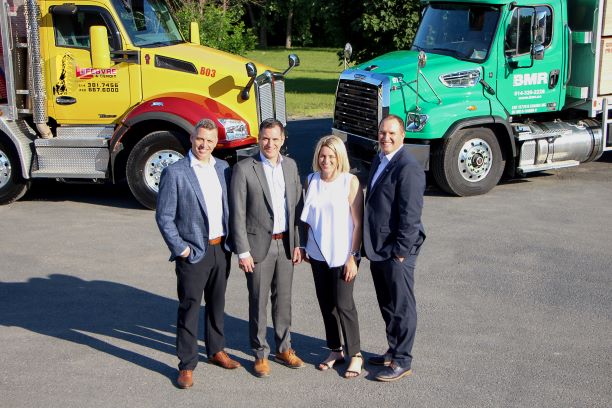 (Shown: Marc-André Lefebvre, Alexandre Lefebvre and Caroline Lefebvre, co-owners of Lefebvre & Benoit; and Pascal Houle, CEO of BMR Group.)
BOUCHERVILLE, Que. — BMR Group has reached a deal to acquire a stake in Lefebvre & Benoit, a Laval-based dealer selling construction materials to contractors and builders, for a confidential sum and subject to regulatory approval. The two Quebec companies aim to combine their expertise to improve their offerings and drive growth across Canada.
Both companies are members of the buying group Independent Lumber Dealers Co-operative.
"Although we are the third generation of Lefebvre at the helm of the business, we have never lost the family's ambition and fervently wish to see Lefebvre & Benoit's continued prosperity," said co-owner Alexandre Lefebvre. "We believe that BMR Group is the ideal partner to make it happen."
La Coop fédérée President Ghislain Gervais said, "We are confident that this alliance will drive the development of our hardware division as well as Lefebvre & Benoit's  … to new heights both in Quebec and across Canada." Alexandre and Marc-André Lefebvre and their team will remain in place to ensure business continuity.
(For the full story on BMR's alliance with Lefebvre & Benoit, be sure and check out Monday's blazing edition of our weekly Hardlines newsletter! Not getting the full story every Monday? Then click here right now and we'll send you four issues on us!)