SPECIAL REPORT — Walter J. Hachborn, founder of Home Hardware Stores and the man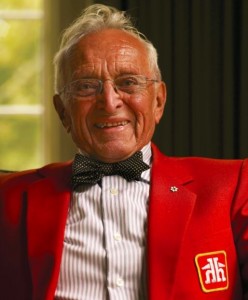 who brought the co-op hardware model to Canada,  died on the morning of December 17 at the age of 95.
Hachborn was born in Conestogo, Ont., but moved with his family at the age of four to nearby St. Jacobs, the town with which he would become synonymous. The Hachborns lived behind Gordon Hollinger's hardware store, where the young Walter got his start in the industry as a stock boy at the age of 17. A decade later, after Hollinger's death, Hachborn took over the store with partners Henry Sittler and Arthur Zilliax. A 1956 Hardware Age article on the dealer-owner model convinced him it could be imported into Canada. In 1964, Hachborn and Sittler founded what would become Home Hardware, beginning with just 108 stores. Today, the co-op boasts almost 1,100 stores across Canada.
He retired from active involvement in the day-to-day business in 1988 and retained the title of President Emeritus.
Hachborn was predeceased by his wife, Jean Marie (née Brown), a former township councillor, in 2014. The pair were active Lutherans, serving on the board of St. James' Evangelical Lutheran Church in St. Jacobs. Walter served on the board of directors of Wilfrid Laurier University, and Jean Marie on that of its affiliated Waterloo Lutheran Seminary. As a Christian, Hachborn believed that good ethics also made for good business. He was a regular volunteer on Habitat for Humanity builds, including one in Kentucky with former U.S. President Jimmy Carter.
Among the accolades Hachborn received are an honorary Doctor of Laws degree from Laurier, in 1985. Four years later, he was inducted into the Canadian Hardware Hall of Fame. Hardware Merchandising magazine named him Hardware Retailer of the Century in 1999. He was appointed a Member of the Order of Canada in 2000, and received the Queen's Golden Jubilee Medal in 2003. In 2007 the Retail Council of Canada conferred on him a Lifetime Achievement Award in recognition of his business and community leadership, and in 2015 he was inducted into the Order of the Business Hall of Fame.
Walter J. Hachborn is survived by his children, Susan Heard, Elizabeth Hachborn, and Bill Hackborn, and five grandchildren.