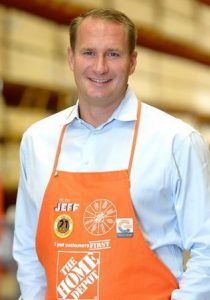 Jeff Kinnaird, the top merchant at The Home Depot, has left the company. He's been replaced by William "Billy" Bastek, who was promoted to the EVP merchandising position, effective immediately.
Formerly the president of The Home Depot Canada, Kinnaird (shown here), who is himself a Canadian, moved to the head office in Atlanta in October 2020 to head up merchandising.
"Jeff has made significant contributions to The Home Depot since starting in the lumber aisle nearly 27 years ago and progressing through every role in our stores," said Ted Decker, chair, president, and CEO of The Home Depot in a release. "His leadership of our Canadian division and more recently of our merchandising, marketing, and online businesses is greatly appreciated."
The same release says Kinnaird "has decided to leave The Home Depot."
Bastek, a 33-year veteran of the company, has served in several leadership positions across the merchandising organization, most recently as SVP of hardlines.