Canadian Tire is focused on identifying opportunities that meet and exceed the needs of its customers.  Do you have a product that makes jobs easier? Do you have products or brands that are cool and different for the enthusiast?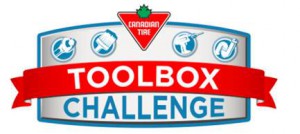 Canadian Tire is inviting vendors to present the latest and most innovative products and brands designed to appeal to the Tool, Hardware and Paint enthusiast and every day consumers at The Canadian Tire Tool Box Challenge, on May 5 and 6, 2014 in Las Vegas at the National Hardware Show.  At this event, vendors will have the opportunity to pitch your innovative product in approximately 20 minutes in front of a panel of Canadian Tire associates. If successful, your products introduced through the Canadian Tire Tool Box Challenge could be launched as early as fall 2014.
Building Innovation
The Canadian Tire Tool Box Challenge is about finding new, innovative products and brands. Potential product categories include:
Air Compressors & Tools
Driveway Sealer & Repair
Electrical
Extension Cords & Power Bars
Fasteners, Rope & Chain
Garage Door Openers
General Hardware
Hand Tools
Ladders & Dollies
Mechanics Tools
Paint, Stain, and Paint Accessories
Plumbing
Portable Power Tools
Power Tool Accessories
Sockets & Wrenches
Stationary Tools
Surface Prep & Maintenance
Tool Storage
Water Pumps, Heaters & Filtration
Welding
Wet / Dry Vacuums
Here's how you can be part of this exciting program:
Visit www.canadiantire.ca/toolboxchallenge to register by March 28.
Complete the submission form (1 submission per product). Multiple submissions welcome.

Fill in all required fields

Please review the terms and conditions attached to this email. If your company is interested in participating in the event, you must agree to comply with these terms and conditions.
If you have any questions, email toolboxchallenge@cantire.com
Successful Candidates will be contacted by email the week of April 21, and will be required to submit additional product information. Following receipt of your detailed product information you will be invited to present your products to a panel of representatives from Canadian Tire.
Presentation dates are scheduled for either May 5tor 6 at the Hardware Show in Las Vegas, Nevada (dates to be confirmed). Please mark your calendars. A sample of the proposed product(s) will be required for the presentation and vendors may be required to ship product back to Canada for further review. All details about the event in Las Vegas will be communicated upon being contacted at the end of April.
Good luck!