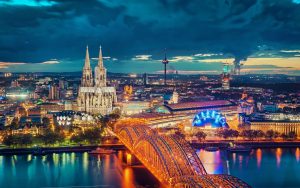 Pre-bookings by vendors for next year's giant hardware fair in Cologne, Germany, indicates strong support for a return to face-to-face business.
Eisenwarenmesse, the International Hardware Fair already has almost 2,500 registrations through its early-bird booking. The booking was also a success internationally, say the organizers, as exhibitors from over 40 countries have registered so far.
The show will be held from February 21 to 24, 2022.
Besides being a showcase for tools, hardware, plumbing and industrial products, the show is attracting attention for its focus on e-commerce, a sector of home improvement retail that has skyrocketed under COVID. International experts in online trading will make presentations during the show on e-commerce start-ups and provide insights behind the scenes of online trade.