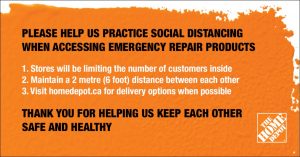 NATIONAL REPORT — As the COVID-19 outbreak continues to impact industries, many of those affected are putting  their best face forward.
The United Food & Commercial Workers negotiated a $2 hourly raise for all front-line workers at Loblaw stores. Fellow grocer Metro extended a temporary raise in the same amount to its grocery store and warehouse workers, effective from March 8 to May 2. Sobeys and Safeway Canada are among those taking similar steps.
Giant Tiger is likewise temporarily paying employees $2 more per hour retroactive to March 8. And to meet a surge in demand, the Ottawa-based retailer is seeking additional temporary workers. Discount retailer Dollarama announced a 10 percent pay increase for store and warehouse employees.
Taking care of staff and business partners
Walmart Canada is paying out a $200 bonus for March to its full-time store and supply chain employees, while part-time workers will receive half that amount. The giant retailer is also waiving rent costs for businesses that operate within Walmart stores. These include food service providers, hair salons and nail spas.
Walmart is also looking out for its vendors. It will accelerate payments to its small Canadian suppliers and service providers. The goal is to expedite payments within 14 days, a measure that will remain in place for the next two months.
Lowe's Canada has implemented relief measures  for staff at its corporate stores. The payment amount is $300 for full-time associates and $150 for part-time and seasonal associates.
Identifying essential services
This week, the country's two most populous provinces shuttered non-essential businesses. Ontario and Quebec differed however in their definition of the essentials, with la belle province generally more selective about which sectors it allowed to remain open. While Ontario extended a blanket exemption to construction trades, in Quebec, builders are limited to certain urgent works.
Ontario also allowed all hardware stores to continue doing business, a move for which Hardlines President Michael McLarney had personally appealed in a letter to all three levels of government, including the office of the premier. Quebec's initial list of essential businesses covered only big-box hardware stores. It took pressure from hardware association AQMAT to win the government over.
"There are numerous towns where only a small hardware store can answer to critical needs," AQMAT President Richard Darveau said. "Listen, we're not the first level of essential service, but if your fuse pops or toilet leaks, you have to fix them," Serge Blain, owner of Montreal's Beaubien Hardware, told The Globe & Mail.
Building supply was included in the Government of Saskatchewan's action plan as an essential service this week as well. Mark Westrum, a TIMBER MART dealer from Roleau, Sask., and a past chair of the Western Retail Lumber Association, notes that a letter was drafted by the WRLA expressing the importance of building supply to assist customers during disaster relief and crisis situations like COVID-19. "I sent out my letter to every MLA and MP in the ridings we have operations in," he said. "Looks like it may have had an effect."
Meanwhile, regional associations continue to advocate on behalf of their members. "The building supply industry is part of the fabric of Canada," says WRLA President Liz Kovach. "Our members play a vital role in their communities, from providing jobs to over 262,000 Canadians to producing and supplying materials that are a necessity to the construction sector and essential to all Canadians."