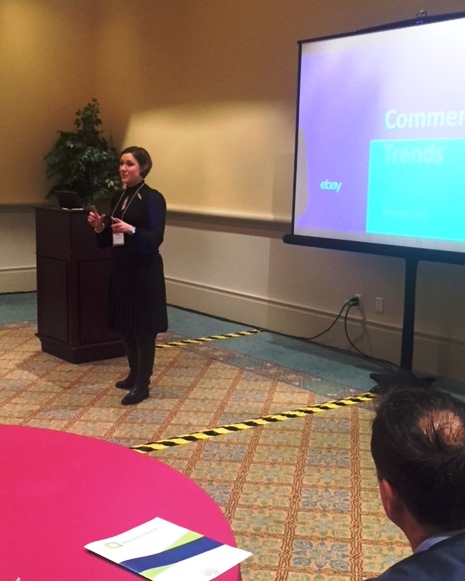 ORLANDO, Fla. — The second annual Home Improvement eRetailer Summit was held last week, bringing together manufacturers, distributors, and pre-qualified online retailers interested in increasing online sales of home improvement products through collaboration and partnerships. Participating companies include BuildDirect, eBay, Sustainable Supply, Supplyhog.com, and Sears.com and Kmart.com.
The event, which was held at the Rosen Shingle Creek hotel in Orlando, Fla., offered an intimate environment for vendors and retailers alike to learn from each other and network to develop online strategies for mutual growth. It also included a day of presentations by leading e-commerce companies, including a keynote by Alyssa Steele, divisional merchandise manager for home and garden at eBay (shown here).
Retailers looking for ways to meet the next challenge of online retailing, including the move by manufacturers to sell direct on Amazon or other e-commerce market places. Vendors in the room expressed their interest in growing their sales with legitimate sellers such as eBay and in finding strong, branded products that can be sold on an exclusive or proprietary basis.
(Full report on this incredible event will appear in Monday's edition of our weekly HARDLINES e-newsletter. Check it out for yourself: click here to sign up now for a four-week trial. No gimmicks!)