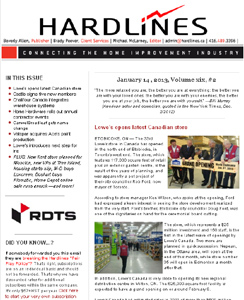 These Daily News updates are just a small part of what Hardlines has to offer. Did you know Hardlines publishes an email newsletter every week with in depth articles, analysis and exclusive interviews you can't get anywhere else? In fact, over 4,000 executives in the home improvement industry start their week with the Hardlines eNewsletter. This week we are offering a free preview of the eNewsletter to our daily news subscribers.
Every Monday morning Hardlines brings you breaking news from the Home Improvement Industry. The Hardlines weekly e-Newsletter is the #1 source for Retailers and Vendors, bringing you the latest news like where Lowe's will open next, who the new buyer at Canadian Tire is, the latest vendor programs at Home Depot, how the buying groups keep positioning themselves for growth – and so much more. Every Monday Morning HARDLINES delivers the latest:
retail news and trends
store openings
buyer changes
mergers and takeover
the latest statistics on housing and retail
AND Your membership in the HARDLINES Family means big savings.
HARDLINES Subscribers enjoy big discounts on other HARDLINES Reports, Directories and Events. Those savings can quickly equal the cost of your subscription many times over!
Pricing: 1 year (48 issues)
1st Subscriber: $348
Additional 2-6 subscribers: $57 each
After 7 Subscribers: $28 each