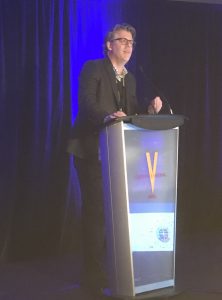 NIAGARA-ON-THE-LAKE, Ont. ― The 23rd annual Hardlines Conference concluded with a rich program of speakers. The day began with a presentation by Charles Valois (shown here), VP central marketing for Lowe's Canada. Valois reaffirmed Lowe's Canada to the independent dealers who fly the RONA and Ace banners. "We're very proud of these people," he stated. "It's incredible what they're doing for our business."
Two dealers took to the Hardlines stage during the conference. Russ Jones, a RONA dealer with three stores on British Columbia's Sunshine Coast, gave a deeply moving account of his personal involvement in the community and beyond. Jillian Sexton, a TIMBER MART dealer with three stores in the Maritimes, delivered a powerful message about the role, and challenges, of women in this industry.
The conference, now in its 23rd year, is the only national event for the retail home improvement industry in Canada. It gathers dealers, suppliers and retail head offices for two days of learning and networking. The next Hardlines Conference will be held November 12 to 13, 2019.