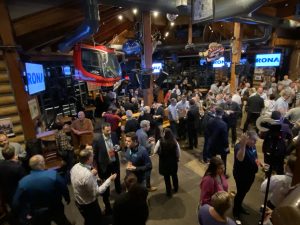 The 27th annual Hardlines Conference got underway last night with a packed RONA Pub Night in Whistler, B.C.
Almost 200 retailers, retail group executives, and vendors gathered at Merlin's Bar and Grill in Whistler Village for the traditional kick-off opening event at the Conference.
Today, the action moves to the Fairmont Chateau Whistler, where delegates will watch six speakers from all facets of the industry. Then, after a Home Hardware reception, the 31st annual Outstanding Retailer Awards will be presented at a gala dinner.
We will report on the seminars and the awards recipients in tomorrow's Hardlines Daily News. For a much more comprehensive summary, Hardlines Premium Member-Subscribers will enjoy coverage in next Monday's Hardlines Weekly Report.