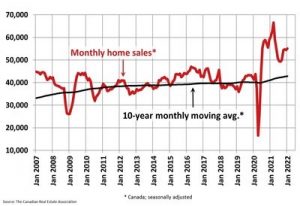 Statistics released today by the Canadian Real Estate Association (CREA) show national home sales remained historically high in January 2022 despite historically low levels of both new and end-of-month supplies of properties for sale.
Home sales edged up one percent between December 2021 and January 2022. There was an even split between the number of local markets where sales were up and those where sales were down in January. Gains occurred in Calgary, Greater Vancouver, and Ottawa, with declines in Winnipeg, Montreal, the Fraser Valley, and Hamilton-Burlington.
The actual (not seasonally adjusted) number of transactions in January 2022 came in 10.7 percent below the record for that month, set in 2021.