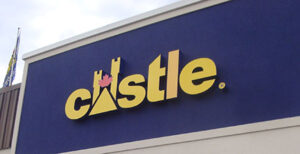 Some dealers are finding it difficult to hire contractors who can install their wares for customers, especially after the pandemic boom in which contractors have been very busy with their own clients.
One Castle dealer who has found a solution to a better installed services program is Nova Scotia Building Supplies in Blockhouse, N.S. Over the past 15 years, it has branded its installed sales department as "All Install Design Centre." It employs its own crews for All Install, which currently consist of about a dozen installers and carpenters.
Most of Nova Scotia Building Supplies' installers are long-time employees, says Branden Refuse, the store's installed sales supervisor. And to avoid the appearance that it's competing with its contractor customers, the store usually "backs away from jobs" other contractors want, says the store's manager, Curtis Saulnier.
This story is excerpted from a larger article that appears in the 2nd Quarter issue (mailing April 7) of our trade magazine Hardlines Home Improvement Quarterly. HHIQ is mailed free-of-charge to 11,000 dealers and managers across the country and is $90 per year for suppliers. To get your own subscription, click here now.