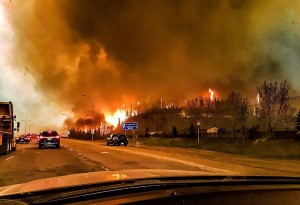 The massive wildfires that rage near the cities of Yellowknife, N.W.T., and Kelowna, B.C., have had different effects on the home improvement retailers there.
In Yellowknife, the situation is clear—a complete evacuation. The city of 20,000 residents is now empty—except for first responders—as a wildfire of more than 1,500 square kilometres rages northwest of the city. Yellowknife retailers now closed include Corothers Home Hardware Building Centre, Yellowknife True Value Hardware, and Igloo Building Supplies.
In West Kelowna, the community of 36,000 across Lake Okanagan from Kelowna closest to the forest fires, home improvement retailers were still open yesterday. Joanne from Home Hardware West Kelowna said that the devastating McDougall Creek Wildfire was about eight to 10 kilometres from town. "Many people are coming in for furnace filters and air purifiers to keep their homes clean."
Home Depot West Kelowna was also "fully open… and trying to help the community as best we can," an operations manager at the store told Hardlines.