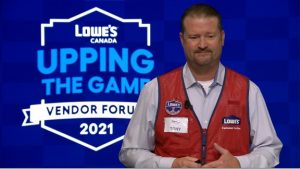 Lowe's Canada held on Nov. 4 its first Vendor Forum for the Lowe's, RONA, and Réno-Dépôt banners. The event brought together over 600 participants from some 225 partner companies. The event included a message from Lowe's Canada president Tony Hurst (shown here).
"As the retail industry is rapidly evolving, this unique event was a great opportunity to share our goals and vision with our vendors," Chris West, SVP, merchandising, said in a release. "We also had the chance to discuss with them on what the next steps are to make the most of our collaboration and continue to meet our customers' needs."
Three vendor partners were honoured as Vendors of the Year during the event: Chervon in the Hardlines category, Samsung in Home Décor and Appliances, and Waterline in LBM. A virtual fundraising closed the forum. The Lowe's Canada Foundation presented both Opération Enfant Soleil and Children's Miracle Network with a cheque of $360,000, thanks to the generosity of vendor partners.