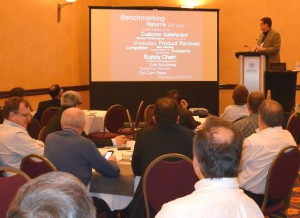 Want to get your lines listed with the majors? Got a new product that needs to get launched? Now you can hear from the buyers themselves! At the Hardlines Meet the Buyer's Breakfast, April 30 in Toronto, Canada's leading hardware and home improvement buyers will explain to you what it takes to get listed in their stores.
These industry leaders will join us for the Meet the Buyers Breakfast:
Dave Martin, Product Manager – Hand and Power Tools, Home Hardware;
Dave McNeil, VP Eastern Canada, Taiga Building Products;
Senior Buyer, Canadian Tire, TBA;
Andrew Pantelides, Procurement and Merchandising Manager, Chalifour Canada.
Click here to reserve your seat today for April 30!