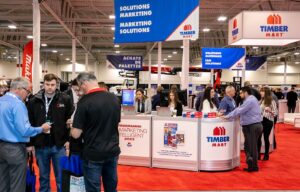 TIMBER MART's first-ever hybrid national buying show concludes today. It's being held virtually via a cloud-based tradeshow platform and in person and at the Toronto Congress Centre.
"It's finally bringing people together," said TIMBER MART CEO and president Bernie Owens of the face-to-face event. "Everyone is so tired of Covid. It's long overdue."
Owens added that response from dealers was strong for the show, with delegates coming in from every part of the country. In addition to the hundreds of TIMBER MART stores in attendance, 270 vendor booths filled the 70,000-square-foot show floor at the Toronto Congress Centre.
(Full report on the show in Monday's effervescent edition of our weekly edition of Hardlines!)