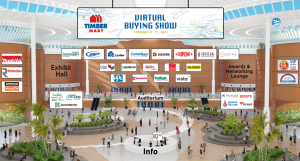 TIMBER MART held its 2021 Virtual Buying Show between Feb. 8 and 11, welcoming more than 1,600 dealer and vendor participants.
"Based on the positive feedback we've received from our members and vendors, we achieved what we believe was the best virtual tradeshow our industry has ever seen," boasted CEO and president Bernie Owens.
The show floor featured a virtual Store on the Floor where vendors presented a wide range of SKUs and store-planning ideas for members to explore for in-store use, as well as a TIMBER MART area that showcased all of the group's offerings, from marketing supports to lumber procurement. The event was hosted on a cloud-based virtual tradeshow platform with support from IQ Business Events.