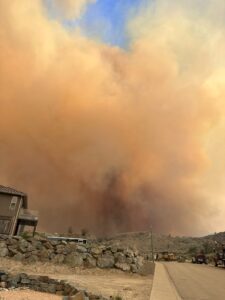 Nestled at the bottom of the Okanagan Valley in central British Columbia, Osoyoos is one of the driest places in the country. In fact, it's technically a semi-arid desert, the only part of Canada that can claim such a designation.
It sits on the border to the U.S. And now it's sitting next to a huge wildfire that has blown up from nearby Washington state. As of yesterday, the Eagle Bluffs wildfire was sitting just four kilometres from the town, and about 700 people have been forced to evacuate.
In a town where daytime temperatures can hover around 28 degrees Celsius, and even exceed 40 degrees, two dealers, Osoyoos Home Building Centre and Osoyoos Home Hardware, are used to operating successfully under extreme heat conditions. But this threat takes their challenges, and the challenge of the whole town, to a new level. The Home Hardware in the centre of town remains safe, though, as firefighters have saved all the structures. However, the store remains on alert.
(Pictured: the view from the evacuated home of Carla Jorgens, the manager at Osoyoos Home Hardware.)