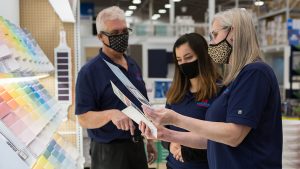 In a bid to stem the post-pandemic labour shortage, employers are offering a variety of incentives to potential workers. That can mean flexible hours, higher wages, or even signing bonuses.
This last perk is usually reserved for corporate executives or specialist workers in technology or trades. But CBC News reports that it's becoming an increasingly common feature of want ads for positions ranging from hair stylists to call centre workers.
Marie-Hélène Budworth of York University's School of Human Resource Management says it's a sign that "these are desperate times" for many employers. On the other hand, some employers prefer to invest in higher overall wages rather than a one-time bonus, which Budworth says is a greater benefit to workers in the long run.
Julie Labrie, president of recruitment firm BlueSky Personnel Solutions, says salaries have gone up "drastically." Increased paid time off, sometimes as much as four weeks of vacation is also becoming more common.
Others are thinking outside the box to lure employees. One Montreal grocer is offering bus passes and store rebates to employees. A Halifax baby boutique joined forces with neighbouring retailers to give new hires the option to combine part-time positions.
"We talked with other tenants in the mall who were also finding it really hard to attract workers," Ivy Liu, owner of Fluffy Bottom Babies in Bedford, N.S., told The Globe and Mail. "We came up with a plan that if we find the right worker but they want full-time hours, they could work three days here and two days in another store."
Since the pandemic's outbreak, workers in essential services have been publicly celebrated, but material compensation has often lagged. Meanwhile, those who had worked in non-essential fields found they could earn more money staying home, thanks to programs like CERB. Now, burnout is widespread, and a looming "mass exodus" of workers has shifted the balance of power to jobseekers.
"The power swings back and forth based on market conditions and supply and demand from employer to employee," executive recruiter Ken Stoddart told the CBC. "And right now it's skewed towards the employee."
Other retailers are setting their sights on younger recruits. Tristan Tremblay, 14, works at a store in Chicoutimi, Que., which includes a hardware store as well as a filling station and convenience store. "My father started working young and he wanted me to start working young too," he explained to Le Journal de Montréal. The work, he added, is "a bit repetitive … but it's going well."
At the same time, some retailers are looking to the other end of the lifespan. Don Dyck is president of Kingdon TIMBER MART in Peterborough, Ont. The store used to count on Trent University students for seasonal work, but interest from that demographic has waned. Nowadays, he says, his seasonal employees are more likely to be workers later in their careers who don't wish to work year-round.