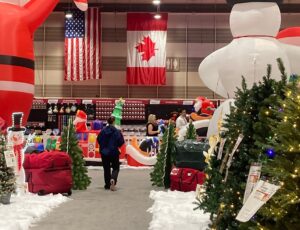 Thousands of hardware and building supply dealers from around the world have converged on New Orleans this week to attend the 2023 Orgill Market. The delegates include owners and managers from across Canada, who have attended to access new products, special buys, and the latest services available to them.
The event, which runs until Feb. 11, draws retailers to browse more than 900,000 square feet of exhibits from Orgill's suppliers, as well as interacting with Orgill team members, shopping for promotional buys, and attending a range of educational sessions.
"We are thrilled to welcome our customers and exhibitors to New Orleans," said Boyden Moore, Orgill's president and CEO. "We know how these events play an important role in helping our customers build more profitable businesses, and we are committed to finding ways to make our markets even more meaningful and accessible."
The atmosphere was very positive, with the majority of exhibiting vendors reporting lots of interaction with their dealer-customers and everyone sharing a sense of relief and enjoyment at being able to gather in person again.