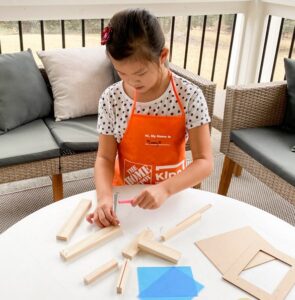 A new interactive service for children from The Home Depot is a platform to engage kids remotely in crafts and assembly activities. It's also the company's first foray into the metaverse. The Virtual Kids Workshop is an experience in Roblox's Redcliff City that challenges gamers to play and learn by collecting materials to build projects. It's the retailer's latest investment in the future of interconnected experiences, and at the same time introduces a new generation to making and building.
Virtual Kids Workshops are inspired by The Home Depot's in-person Kids Workshops, which offer the youngest generation of DIYers a hands-on learning experience to inspire creativity and promote problem solving.
Workshop kits can be ordered through the Home Depot website. Suitable for kids as young as five, each kit pack includes a certificate of completion, an apron pin, and an orange Kids Workshop apron. Parts are made of wood, and kits includes all necessary assembly hardware.