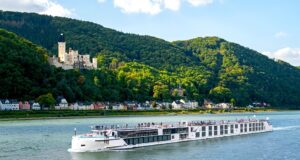 New products. New packaging. New ideas. New contacts. Eisenwarenmesse, the International Hardware Fair in Cologne, Germany, has all these. Yet Canadian merchants and vendors are historically reluctant to attend this important hardware show.
Hardlines has been going for years, and this show rocks. Now, the trip is even more compelling with a cruise along the storied Rhine from Cologne to Amsterdam right after the show. And here's the cool part: the trip includes an extra three days on board the ship before the cruise begins, including your meals and drinks! This means you won't have to find a hotel elsewhere in Cologne. You can stay on board and depart from Cologne on March 6, arriving in Amsterdam on March 12.
Amenities include a butler for every suite, all meals and premium drink package, free wi-fi, excursions at every port, on-board entertainment, gratuities, and port charges.
Dealers and suppliers can take the trip of a lifetime following the International Hardware Fair in Cologne. Hardlines, with the Building Supply Industry Association of BC, Expedia Cruises of Surrey, B.C., and the Asia Pacific Wine and Spirit Institute, presents this unique trip from Cologne to Amsterdam.
(For more info on this combined trip, please click here. For pricing and full details, contact our trip coordinator, Dean Mcintosh.)