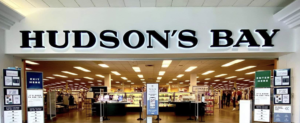 The Hudson's Bay department store chain has remade an existing store in the eastern suburbs of Toronto into a deep discount location. The new Hudson's Bay Outlet store, at Eglinton Square in Scarborough, is selling home goods, accessories, clothing, and footwear at up to 75 percent off.
"Transforming our Eglinton Square location into an outlet store for customers creates a fun and unique shopping destination, distinct from the Hudson's Bay full-line experience," said Kosi Sivasankaran, chief stores officer at Hudson's Bay.
The chain has tried the discount model before—years ago—but ultimately closed those outlets in Montreal and Toronto. Earlier this year, it capitalized on the consumer demand for discount retail when it opened 25 "pop-up" Zellers stores within its Hudson's Bay stores across the country.