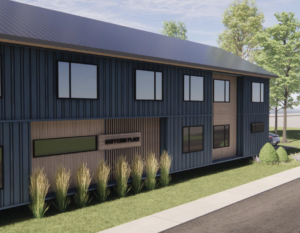 Kent Homes, the sister company of Kent Building Supplies, builds modular housing at its plant in Bouctouche, N.B. This year, production has been ramped up by both the Nova Scotia wildfires and an effort to provide social housing on Prince Edward Island.
Earlier this summer, the province of Nova Scotia bought 25 fully-furnished modular homes from Kent Homes and made them available to rent for people whose houses were destroyed by the Shelburne County and Halifax region wildfires. The project cost the province $7.4 million.
Now Kent Homes is providing modular homes in rural P.E.I. It is constructing a two-storey, 10-unit modular apartment complex in Alberton, which is in the northwest part of the province. A press release from Kent says that the company is partnering with the P.E.I. Division of the Canadian Mental Health Association and contractor 720 Solutions to provide housing for vulnerable individuals with mental health and addiction issues.