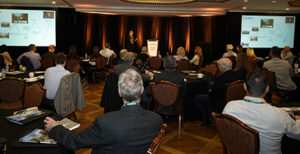 Special hotel rates for the upcoming (Oct. 17 and 18) Hardlines Conference at the Fairmont Chateau Whistler expire by end of day. Our room allotment is 90 percent booked, guaranteeing that this will be one of the best-attended Hardlines Conferences in our 27-year history.
If you haven't secured your spot at the premier networking and educational event in our industry, you've only got until tonight to take advantage of our special group rates. This year's conference, the first one in history in B.C., is being held in partnership with the Building Supply Industry Association (BSIA) of B.C.
As the industry regathers in person after an unprecedented year of structural and ownership changes among our retailers, distributors, and vendors, this Hardlines Conference will be a crucial networking and educational opportunity. Don't miss out!