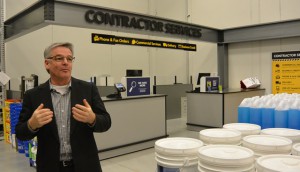 BURLINGTON, Ont. — Lowe's will hold grand openings for two more stores in Canada on February 6. One of them is in Burlington, west of Toronto, and the other a little farther west in Cambridge, Ont. The stores are being touted as "a new concept store experience" by Lowe's Canada president Sylvain Prud'homme.
Based on customer feedback, Lowe's has developed these two new stores with improved adjacencies and new signage, Prud'homme says.
First and foremost was the need to distinguish two customer profiles: contractors and builders on one hand and DIYers, especially the woman shopper, on the other. For the contractor, he notes that "Speed is everything." Research showed that the pro customers wanted to get in and out quickly, finding what they need in a hurry. Now, the right side of the store has been designed for contractors. Aisles are higher and products used to construct a house are merchandised to better suit the shopping patterns of a customer as they would visit the store over the course of a project.
(Full story in Monday's eye-catching weekly edition of HARDLINES! —Editor)