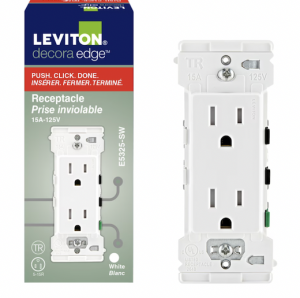 The Home Depot's Atlanta head office last week named selected products from vendors as Innovation Award winners.
The overall winner was a range of electrical switches and outlets called Decora Edge, manufactured by Leviton. They "make installing light switches and outlets faster, safer, and more efficient," Home Depot said in a release. "Colour-coded levers help to easily identify the correct terminal for wiring, and an audible click gives extra confidence with every installation."
Coincidentally, Leviton's Decora Edge line was one of 25 notable products for 2024 chosen by the editors of Hardlines Home Improvement Quarterly. That PRODUCTS issue of our trade magazine will mail on Oct. 13.
(HHIQ is subscriber-only, but it's FREE to home improvement retailers! To subscribe click here.)